Sly & Robbie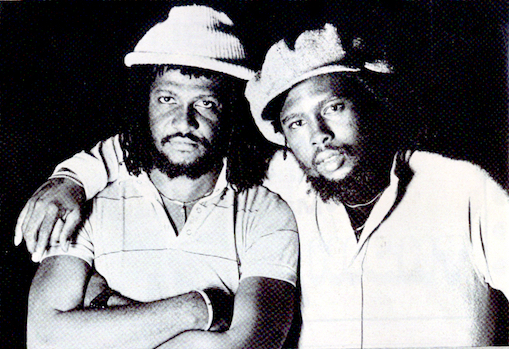 Having made their mark as top session players during the early seventies, drummer Lowell 'Sly' Dunbar and bassist Robert Shakespeare united as members of the Revolutionaries and Aggrovators, with the pair instantly developing an almost telepathic understanding.
A subsequent spell backing Peter Tosh in his band, Word, Sound and Power resulted in five albums with the ex-Wailer and led to the duo's involvement in their first major worldwide hit, 'Don't Look Back', which featured Toshand Rolling Stones frontman, Mick Jagger.
Soon after, Jamaica's so-called Riddim Twins formed Taxi Records, producing international hits by a variety of Jamaican talent, while also backing numerous pop and rock acts, notably Grace Jones Joe Cocker, Mick Jagger, Bob Dylan, Ian Dury, Herbie Hancock, Maxi Priest, Cindy Lauper, Barry Reynolds, Carly Simon and Mick Hucknall.
Their career and the best of their instrumental work both come under the spotlight this Trojan Tuesday, with a new bio and spotify playlist posted today in the Artists section on this website. To check it out, simply click here or on the Artists link at the top of the homepage, then scroll down to the article link at the bottom of the page.